If you're thinking about making the move, you might be wondering whether you'd prefer to live in an apartment or a house. Of course, there are pros and cons to each, and every situation has different demands, but there are certainly a lot of advantages to apartment living to keep in mind! 
Here are some of the best things about living in an apartment:
Sense of Community
If you've been longing to be surrounded by a stronger community, apartment living is the way to go. Being close to neighbours and shared village shops, greens, and other hubs means that community falls naturally into place.  
Add to this the fact that many people move to apartment developments with the intention of seeking friends (be it for themselves or their children, with schools often within walking distance), community is often in-built to apartment life. 
Warranty & Safety
One significant advantage of new-build apartments is that they'll often come with a warranty, including defects and emergency out-of-hours cover (included in the Woodgate apartments). 
As well as coming with a warranty, apartments are often outfitted with the latest security features. For one, having a security entrance door to the building and then your own front door offers an extra layer of security.  
Developers ensure that residents are as safe as can be and are responsible for meeting the latest codes and regulations, so will inevitably outfit apartment buildings with security and high-quality smoke and fire alarms.  
An Instantly Comfortable Home
Unlike buying a lived-in house, buying a new-build apartment will mean you have only the latest technology and utilities at your disposal – from wifi heating controls, to LED lighting, to a brand new boiler. 
Say hello to double-glazed windows, built-in wardrobes, and contemporary design, all of which would've burnt quite a hole in the pocket of anyone trying to upgrade a house to have these features. 
Of course, it's not just the home itself that matters in terms of comfort, but also what surrounds it. The apartments at Woodgate are located on the new Village Green and a short walk to the shop, café and community hub. 
Cheaper Utilities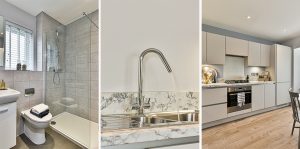 Because of the responsibility of the developer to uphold certain environmental and energy standards, you'll find that utilities in an apartment are cheaper.  
Alongside double-glazing, LED lighting, and new boiler systems, having a smaller place means fewer rooms to heat in general!  
And with special features like wifi heating controls, you can be 100% on top of your heating, so you never have to worry about an unexpected bill.  
You also won't have to front gardening costs, as shared spaces will be maintained for you. 
Less Clutter
We've all heard stories about people buying houses that are just too big for them, with an unmanageable mortgage and too many rooms. They inevitably end up filling up rooms with 'stuff'.  
To put it simply, if you have less space, you'll find yourself quickly making the most of it and optimising for the space you have. You can learn to live more minimalistically in an apartment, and in-built storage solutions will mean everything has its rightful place. 
Investment
Buying an apartment in an up and coming community is an excellent way to invest your money, and an easier way to get on the property ladder.  
Developments with apartments are often situated within thriving and growing neighbourhoods with plans for more schools, shops, and amenities that you – or the person you sell on to – may benefit from in the future. 
If a stunning apartment in a thriving community sounds like what you're looking for, take a look at our homes for sale in the wonderful Woodgate community. And don't hesitate to get in touch if you'd like to speak to a member of our friendly team!